Disruptive innovations in real estate technology are fueling the growth of smart real estate space. There has been significant advancement in application & design of data collecting devices & sensors for commercial and residential real estate assets creating key value metrics with smart solutions to control various systems at offices, facilities, and at home.
IoT (Internet of Things) today is a part of our work, home, and recreational places; capturing data from devices & sensors combined with the power of analytics and AI (Artificial Intelligence), gives IoT the potential to offer insights that will change the way we work, live, and play.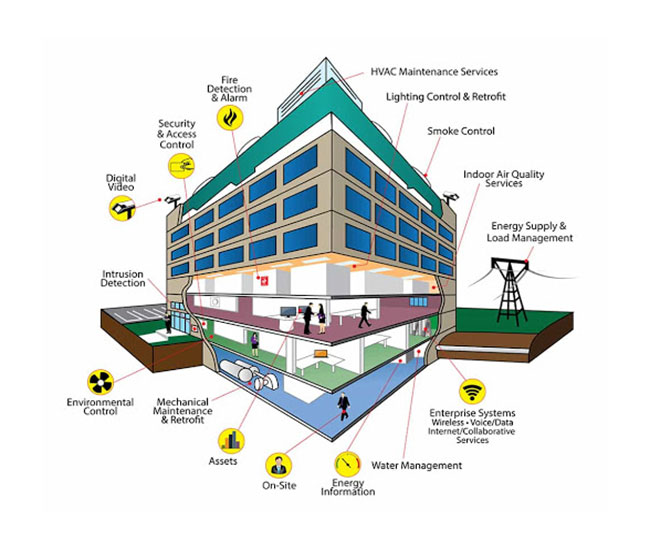 IoT makes spaces SMART
Automated solutions make our work and home life easier. As an example, a smart HVAC system at work can sense space occupancy and adjust ambient temperature for a more comfortable and optimal environment for all occupants mitigating productivity and morale loss.
IoT makes spaces ENERGY EFFICIENT
IoT plays a key role in capturing the energy consumption pattern of systems and can initiate predictive maintenance to ensure smooth operations. It can be implemented to automate building maintenance services, enabling users to track operations of machines like elevator, HVAC system and lighting system by collecting data like operating time, idle time, and maintenance cycle.
Along with the analytics, devices & sensors will record the pattern of operation and notify the need of maintenance whenever required, either in case of irregularity or in case of predictive maintenance. This can be directly translated into tangible benefits like operational cost reduction and intangible benefits like smooth operations, and increasing compliance with federal, state and local regulations in which to reduce carbon emissions.
What does IoT mean for the Real Estate Industry?
Digitally connected buildings bring lower operational costs and less expensive maintenance. Cost savings emerge from the use of motion sensing to turn on light and air-conditioning systems when a presence is detected and an automatic shutdown function when the facility is empty. The largest expense reduction comes from IoT's ability to monitor and collect real-time data continuously. The trail of information may reveal a slow degradation of a piece of equipment indicating potential or near-term failure. Pre-emptive maintenance and repair not only save significant costs, but also protects tenants from experiencing a problem.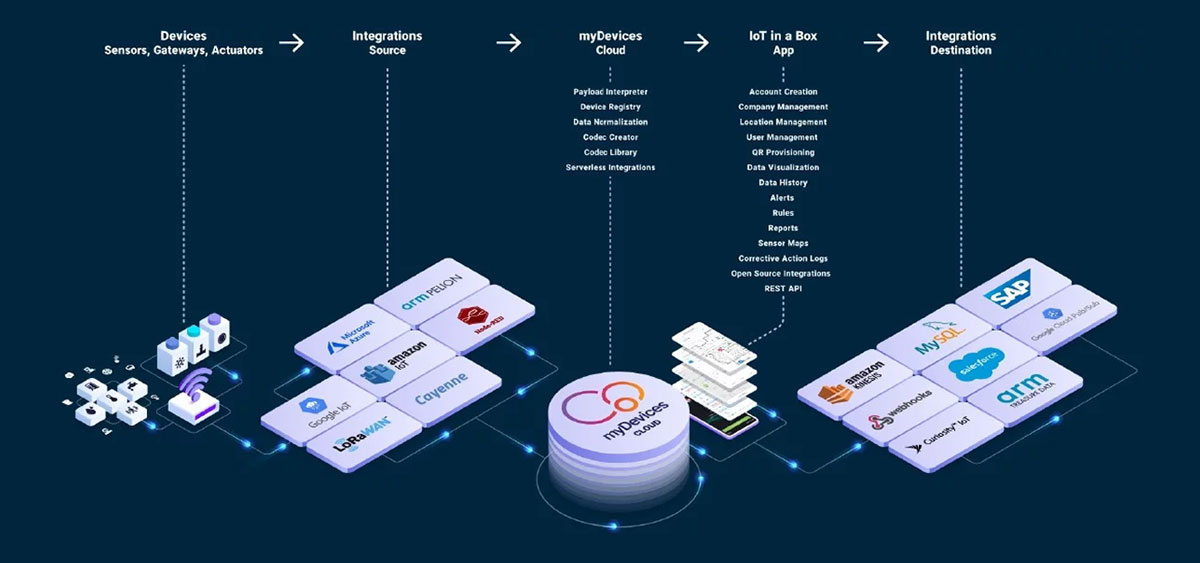 ---
Common devices & sensors for Office Buildings
Gas Monitoring
Wireless sensors measure CO2 and any other gases PPM (Parts Per Million). These are typically special built sensors that are designed for particular use cases.
Waste/Bin Monitoring
Designed for indoor or outdoor bin status detection. Wireless sensor retrofits to your existing bins. It detects and alerts on statuses for full/empty, flame risk, or inclined (fall).
Desk Occupancy
Sensors are placed underneath tables to determine when and how long people are sitting at a table or desk. Useful when trying to determine how often space is being utilized.
Leak Detection
Avoid costly repairs. Receive alerts when water is detected in areas where appliances are present; such as water heaters, sinks, utility closets, and bathrooms.
Refrigeration Monitoring
Monitor temperature conditions of walk-in coolers, freezers, and other food storage areas to maintain proper food safety. Plus, door open/close monitoring.
Motion Detection
Detects the movement of people, animals, and objects indoors in real-time while monitoring ambient temperature and light to track occupancy and ensure comfort.
Door Monitoring
Get notified when a door is opened or closed for a length of time. If a monitored door has been open for 10 minutes, a text message alerts security to close the door.
Smoke Detection
Wireless smoke sensors with 3+ year battery life is an ideal way to stay compliant without the complexity of wiring. Superior range, easier install, and more secure than Wifi.
Panic Button Alert System
Ensure employee and customer safety. Place buttons on walls, under desks, or on lanyards, when activated text message and email alerts are sent in case of emergencies
Tank Level Monitoring
Sensors are used for measuring grain bins, water levels, and locations where the sensor is above a surface that may rise or fall over time. Receive alerts and reports about the levels.
Service Request (Single Button)
When stock needs refilling, staff and customers alike push the button next to the items. An alert is sent, and an order to replenishment is sent to the appropriate party to fulfill.
Service Request (Double Button)
2-Button sensors to place in any facility requesting the replenishment of items or of services such as IT and maintenance. A simple push is all you need for a request.
Feedback/Survey Monitoring
Place a small, customizable connected dashboard or button in any area where customer feedback is essential. Collect feedback effortlessly.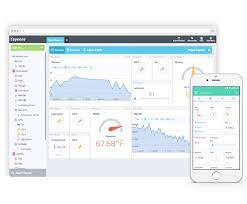 ---
End to End Security
The myDevices IoT platform is secure from the edge to the application layer through the cloud. The security is composed of LoRaWAN Network Security at the edge, TLS to the cloud and SAML at the application layer.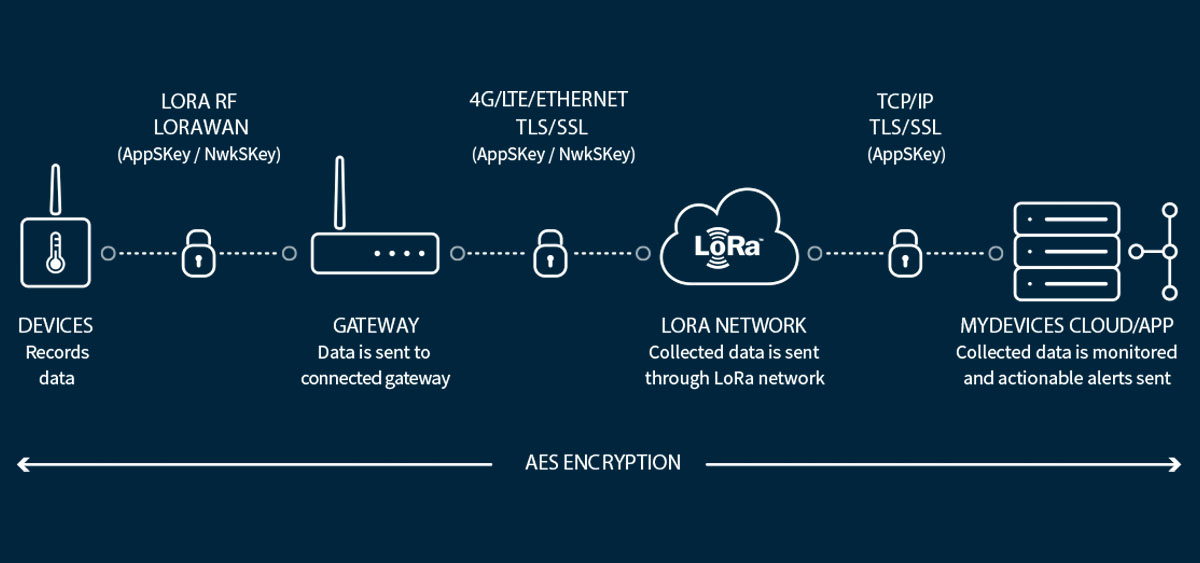 ---
(Download link available on the next page)